We managed to get our hands on a draft copy of the Spooky Tooth 1968 Fan Club Newsletter that is faithfully reprinted in our #IBoR volume 1. What fun.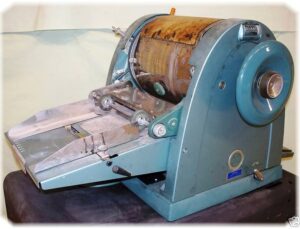 The newsletter is three sheets of paper – printed cheaply by the new technology of the 60s – a Roneo or Gestetner duplicating machine (pre-dating photocopiers).  You typed on a special double layer of paper – fed through a metal typewriter, hitting the metal keys hard enough to perforate the top layer of paper,- which was wrapped around a steel drum,  rotated by a handle and ink would ooze through the perforations. Most people became exhausted after printing several copies, hands were covered in ink, and the stencil would start breaking up. There's dedication for you.
The newsletter describes  Spooky's American tour, where they played at the Dodger Baseball Stadium whilst a game was on;  at the "Philmore"; then  a week at Whisky-A-Go-Go, where Spooky Tooth 'Honorary Fan club member', Jimi Hendrix, was in the audience. Next a concert in Central Park New York  with Traffic, before rushing back to Croydon for a 'happening' at the Fairfield Halls with Julie Driscoll, Brian Auger and The Trinity.
The winner of the Spooky Tooth Christmas Card Competition was announced. (Duncan from Scotland.)
Urgent news also – that the sticky Spooky Tooth badge had become too expensive for the Fan Club to give away, but you could buy one for tuppence (2d) as well as photos of the band for 3s 6d.  Ah, the joy of merchandising…